Product
As a small, family run business, orders are shipped once a week on Monday's. Thank you for your patience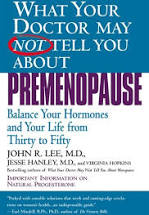 ---
Balance Your Hormones and Your Life from Thirty to Fifty
"I'm too young for menopause - so why do I feel like this?"
You may be suffering from premenopause syndrome:
* Weight gain
* Fatigue
* Mood swings
* Loss of libido
* Fibroids
* Tender and/or lumpy breasts
* Endometriosis
* PMS
* Infertility
* Memory loss
* Migraines
* Very heavy or very light periods
* Cold hands and/or feet
Dr. Lee (with the women's health expert Jesse Hanley, M.D.) brings you a revolutionary nonprescription 'Balance Program' to restore your gynecological health, energy and sex drive - and even slow the aging process before menopause and beyond.
"Packed with sensible solutions that work and cutting-edge revelations on women's health.. and indispensable guide."
~ Earl Mindell, R.Ph., Ph.D., Author of The Vitamin Bible
Download our free E-book
Good, Better, Best... How do I know which progesterone cream to buy?
DOWNLOAD