Product
As a small, family run business, orders are shipped once a week on Monday's. Thank you for your patience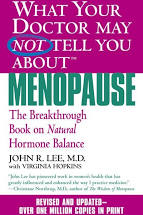 ---
The Breakthrough Book on Natural Hormone Balance
Dr. Lee is the world authority on hormones and bio-identical hormone replacement therapy. Hundreds of thousands of women have followed Dr. Lee's natural hormone program - experiencing amazing results. 
* Reduce or eliminate premenopausal and menopausal symptoms
* Help eliminate hormone-related problems such as osteoporosis, hot flashes, night sweats and vaginal dryness
* Reduce 'middle-age' weight gain
* Protect against breast cancer
* Help restore sex drive and energy... slow the signs of aging
"John Lee has pioneered work in women's health that has greatly influenced and enhanced the way I practice medicine."
~ Christiane Northup, MD, author of The Wisdom of Menopause
Download our free E-book
Good, Better, Best... How do I know which progesterone cream to buy?
DOWNLOAD